GET ORGANIZED!
The patented designed R.M.I Merch Kit will save you valuable time and money. This kit can be safely attached to the user's pants using the plastic belt clip. With a dedicated spot for your R.M.I '2-in-1 Auto-Retractable Safety Cutter' you will never forget where it is. Inside the zipper pouch you can store items essential for day to day operations. Included in the Merch Kit are 10 hang tabs and an 80-page memo pad.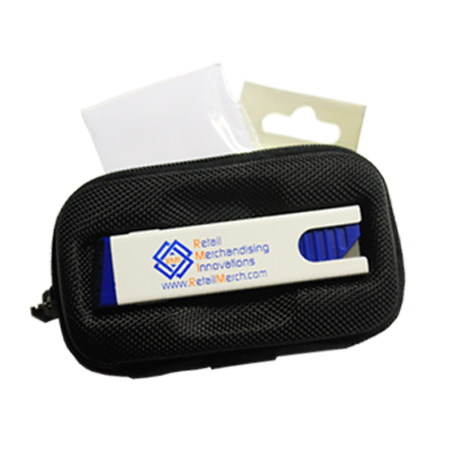 ALLOW US TO SHOW YOU WHY IT'S SO GREAT.
Patented designed scoop will keep your safety cutter firmly in place. Reduces cost of lost cutters and the time spent from searching for them.
Included 80-page memo pad allows you to keep important notes on the spot.
Ripped or broken pegged packaging can be fixed with the 10 hang tabs included inside your R.M.I Merch Kit.
IT IS ALL ABOUT DETAILS
PRODUCT: Merch Kit
ID: MK0001
MADE OF: Polyurethane
MEASUREMENT: 13.2 x 7.8 x 5.2 cm
WEIGHT: 164 g