A TWIST ON TRADITIONAL BOX CUTTERS
R.M.I has taken the conventional carton cutter and turned it into a safer 2-in-1 utility knife. The auto-retractable blade makes working with this sharp tool much safer. Maximize the usage of your cutter with our easy to change, 4-sided blade. This extends the life of your blade and saves you the cost of constantly replacing them. The scraper end of this cutter is what separates this from all other utility knives on the market. It scrapes off grime and sticky residue off of working surfaces with ease. It can also be used to split the tape from fragile boxes.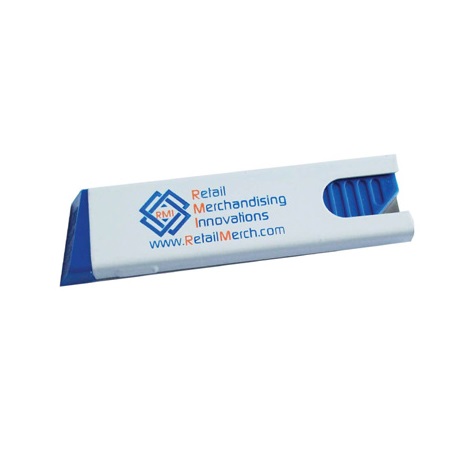 ALLOW US TO SHOW YOU WHY IT'S SO GREAT.
DURABLE METAL FRAME
This cutter comes in a durable metal housing making it strong enough to survive the hazards that come from working in a fast-paced environment.
SAFER CONTROL
These notches give your thumb the perfect surface to push on to expose the blade. It is also conveniently notched on both sides for left or right handed users. Once your thumb is released, the blade automatically retracts keeping you safe.
NOT JUST A BOX CUTTER
Included on the bottom end of the Auto-Retractable Safety Cutter is a scraper. It is dual purposed and can be used to split tape on fragile packages or scrape up grime or sticky residue on working surfaces.
IT IS ALL ABOUT DETAILS
PRODUCT: Auto-Retractable Safety Cutter
ID: SC0001
MADE OF: Plastic with metal housing
MEASUREMENT: 10 x 2.6 x 0.8 cm
WEIGHT: 33 g