A SHARPER BLADE IS A SAFER ONE!
Dull blades require more force and have the tendency to slip during the cut. These 4-sided blades will ensure your cutter always has a sharp edge. As they come packaged inside plastic cases, they are easy and safe to carry around.
ALLOW US TO SHOW YOU WHY IT'S SO GREAT.
The refills come packaged in groups of 10, per plastic carrying case.
Each blade is 4-sided, extending the life of every blade.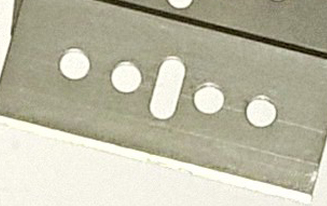 The notches cut into the blades will match up perfectly inside your Auto-Retractable Safety Cutter.
IT IS ALL ABOUT DETAILS
PRODUCT: Refill Blades
ID: RB0001
MADE OF: Carbos Steel
MEASUREMENTS: 4.3 x 2.2 x 0.7 cm
WEIGHT: 17 g